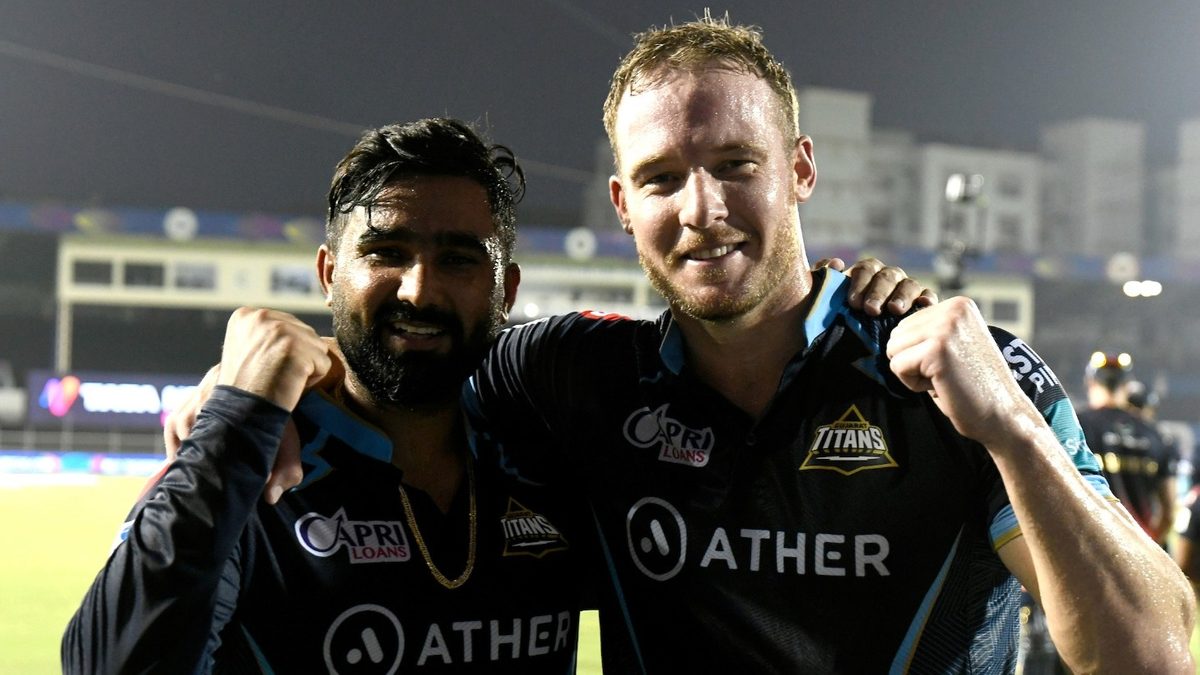 A winning run of seven games in eight is unusual in a format as volatile as T20 cricket. When it's in a league like the IPL, where every team is packed with match-winners and anyone can beat anyone, it's even more remarkable. To that end, Gujarat Titans losing their ninth game in IPL 2022 can be looked at as just the law of averages being at work.
Or, you know, that's how the opening para of an analysis after the Titans' game against Royal Challengers Bangalore ought to have read in a world where the Titans hadn't made come-from-behind miracles an everyday affair.
This is a team that just doesn't accept a match is lost.
This. Team. Doesn't. Accept. A. Match. Is. Lost.
It might seem to those outside that the match is slipping from the Titans' grasp. It might look like a chase has got too steep, a defence has got too tight. And then the Titans go out and win it anyway.
"It's important to keep that belief within you, that till you are at the crease, you can do anything," Rahul Tewatia would say after the game.
It's been something of a marvel to watch a Titans chase this IPL. Tewatia has made the extraordinary routine. David Miller has come out with a newly upskilled game where he hasn't lost his ability to destroy pace, but has added the skill to smash spin too. Rashid Khan, bursting to show his all-round credentials, has smoked two bowling attacks with tornado-like innings.
But the victories the Titans have stacked up have not been achieved on a wing and a prayer.
Hardik, and all the players too, have spoken at length about the atmosphere in the team. How it is relaxed, how it fosters players being the best versions of themselves, how it's led to relaxed mindsets primed to soak in pressure situations with minimum fuss. Those are the intangibles. The tangibles, which play an equal – or greater – role in a team's success are how Hardik and the brains trust have excelled.
Against RCB, after the openers had given a stable base with 51 for 1 in 7.3 overs. With Wanindu Hasaranga operating, out came Sai Sudharsan at No.3. Not only did it ensure a leftie at the crease to take on the Royal Challengers' prime spin weapon, it was a leftie who ticked all the boxes: Sudharsan is an aggressive player and wouldn't suck momentum out of the innings, he has decent batting chops, and his promotion meant more favourable entry points for Hardik, Miller and Tewatia.
These are the sort of moves in T20 cricket that you do not – you cannot – judge by results. Rather, you judge them by the thought behind. It so happened that Sudharsan did his job excellently, but even if he hadn't, it showed that there was a brains trust ticking busily in the Titans' camp. It also showed that it was possible to get the nuances of tactics right even while keeping the atmosphere light and easy, which could be as impressive an achievement as eight wins in nine games.
The Miller-Tewatia partnership itself was a masterclass in chasing. They had the requisite skills, they had the form, and they had the deep wells of self-belief that get topped up after every win.
"We try to make sure we kind of keep the game always in check, making sure we're there in the game," Hardik said of how the chase was constructed. "Obviously a lot of games where the opposition was on top of us but we kind of pulled the game back towards our side and ended up winning that game. But generally, our plan is to make sure we keep as little as possible in the death. But obviously, if you lose a couple of wickets in the middle it's always going to happen that the run-rate is going to go up."
That run-rate going up does not bother Miller and Tewatia, because they know that there will be a bowler, or an over, that they can take down. When you've not let the chase run very far away from you – and admittedly, what is "very far" has a lot more margin when the Miller-Tewatia show is on – that one over can get you right back on track. Suddenly it's the opposition that finds itself under pressure. Suddenly, the aura of invincibility that's been built all season long acquires greater prominence. And then, even an attack as pedigreed as the Royal Challengers one is run ragged.
"During our practice sessions too, we talk about how to finish a game at the end and what we can plan," Tewatia said of his and Miller's partnership. "Finishing the game in the middle with him is enjoyable."
There's been planning and work from Tewatia too, intensive loads of it. He identified a weakness that allowed bowlers to tie him down, worked on it, and came into the IPL a more complete player.
"I had improved my off-stump game quite a bit from the start of the IPL and hit quite a few shots," Tewatia said. "Because bowlers had begun planning and keeping the field outside off stump, so I thought that if I can hit my shots in the gap, I can get boundaries there too. So I could open up the game on both sides.
"You have to play pre-planned shots in the death overs, but I certainly see the field. But at the end, you have to just see the ball and hit it. So I try to hit it on the offside if it's outside the offstump. If its on the legstump, that is my area, so I shouldn't miss out."
The Iceman, they call him, for his ability to nervelessly finish game after game. The trick is not in being nerveless, though, it's in harnessing the nerves.
"I can't say I am cool, I just appear cool," Tewatia smiled. "But inside, there's lots going on in the mind – when do I start executing what I've planned, which bowler should I take a chance on. I think of lots of things and follow the plans I've set after that thinking."
It's been a coming together of planning, skill and execution, with a sprinkling of magic thrown in.
"The kind of players we have finishing the job for us…someone like a Tewatia, Rashid, Miller as well… the way they are batting, it kind of gives me confidence that even our 8, 9, 10 can come and win the game," Hardik would say after the game.
Who is to argue with him? In a parallel universe, it might seem outlandish that a Lockie Ferguson and a Mohammed Shami would play winning hands with the bat. In this time and space, where cricket's laws bend to the Titans' will, it merely seems like the next logical step for them.
- Saurabh Somani