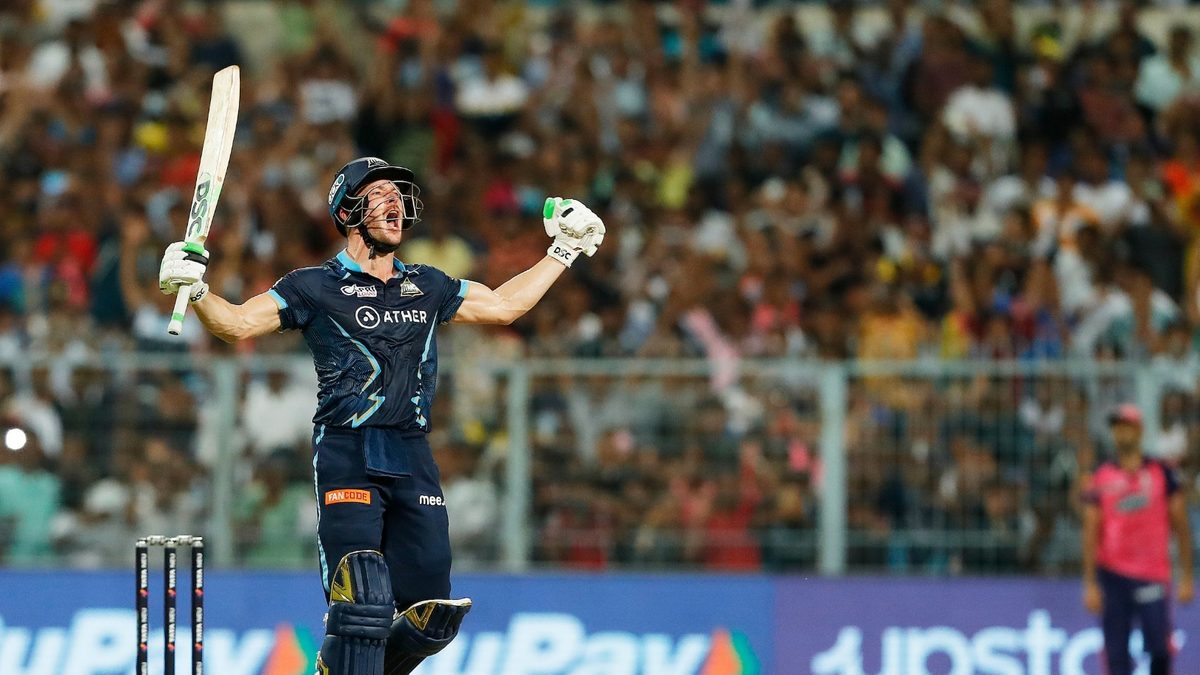 More than base price? Why? What are these two franchises thinking?
In the February mega-auction for IPL 2022, late on the second day, Gujarat Titans began bidding for David Miller. The team they were bidding against, ironically enough, was Rajasthan Royals. From a base price of INR 1 crore, Miller went up to INR 3 crore before the Titans wrested him from the Royals. There was scepticism then, because Miller's numbers in the IPL in the past two seasons weren't that hot. What the scepticism missed, were the intangibles.
Miller at No.5? That's who the lower-order batting and finishing will revolve around?
In the last two years in IPL, Miller had made 124 runs in 113 balls, in 10 matches. Lukewarm strike-rate and average. Delve deeper and you'll see that the runs and balls stay the same even if you omit IPL 2020. That's because in that edition, Miller played only one game, and was run out without facing a ball, when unselfishly responding to a call for a tight single in the death overs. He hadn't really had a stable run – which can happen in an IPL franchise if you are an overseas player. It's not a reflection on your playing abilities, it's the reality of playing in the world's most elite league. Team structures differ, the dynamics change, what you offer might already be available in a franchise. Miller's sporadic opportunities didn't equate to something lacking in the player, but rather was a pointer to the basic tenet of a team having room for only 11, of which only four could be overseas.
Miller at 3 crores? A bargain! Miller at No.5? Who better!
All it needed for things to fall in place for Miller was the right set-up for his talents to flourish. As he said after Gujarat Titans marched into an IPL final on their debut season at the first opportunity, the difference between earlier seasons and now was opportunity, and backing.
"I have been given a good role and a good extensive run in the team. I felt extremely backed from the outset," Miller said, on receiving the Man of the Match award for his 68* off 38 in a steep chase. "My personal game, I am really enjoying my role. I have been playing for many years now, and I think I am just understanding my game a lot better. I think in the high-pressure situations you tend to sort of go away from your game plan, but I feel like I am trying to keep everything together as close as possible to my game plan."
That opportunity and atmosphere in the Titans has led to Miller having already blasted a personal best of 449 runs this IPL. When he's got in, he's been hard to get out, which is why, even though he's batted in each of the Titans' 15 games, he's been dismissed just eight times. That 'understanding' of his own game that he spoke of, and the ability to keep it together during the pressure moments, has led to an average of 64.1 and a strike rate of 141.2.
The evolution, and the niceness of being Miller
However, only giving security and a long run isn't enough. It's up to the player to make the most of it. How Miller has evolved his game is apparent in how well he has tackled spin overall in this IPL. It's apparent even in smaller, in-game tactics.
Miller had been at the crease in the final over of the Titans' chase against Mumbai Indians, when he couldn't put away Daniel Sams' wide line outside off. In another final-over chase, this time in a match with a lot more riding on it, Miller showed how quickly he could adapt. The field was set for Prasidh Krishna to bowl wide outside off in his final over. Miller took normal guard, and walked across his stumps, being in perfect position to slam the first two balls for massive sixes. From 16 off 6 balls, the chase had become a stroll of 4 from 4 balls. Even then, Miller needed only one. He didn't walk across to the third ball because Prasidh went around the stumps. So he stayed still, and whacked it for six anyway.
"Well…there's been a lot of criticising going wide to me on the offside, so I decided for the first time to actually step across," Miller would say, smilingly, later. "There were four fielders on the offside, so I knew there was a certain plan. But I tried to get across onto it, outside off stump. He bowled pretty straight, I just backed myself and went with it."
And as his captain Hardik Pandya said, it couldn't have happened for a nicer guy.
"I am genuinely proud of the way he has lifted his game up," Hardik would say after the game. "He is genuinely a damn good guy. So, I was proud to play with him, and enjoy (it). He is such a wonderful guy, I always wanted good things to happen to him. And it kind of shows if you show love and importance to an individual player, he can flourish and how. A lot of people counted David Miller out, but for us he was always a match-winner from the time we bought him in the auction. What he did today, we always expected from him. But for us it was important to give him the importance, give him that love and give him clarity that what we expect from him. And if you fail, it's okay; it's just a game."
Except that with players of Miller's quality, especially when given all the love and backing that Hardik spoke of, the chances of failure reduce drastically. Miller famously could hit it out of the park if it was in his arc. This year, he's found his career arc settling smoothly – and he's hitting them out of the park harder than ever.