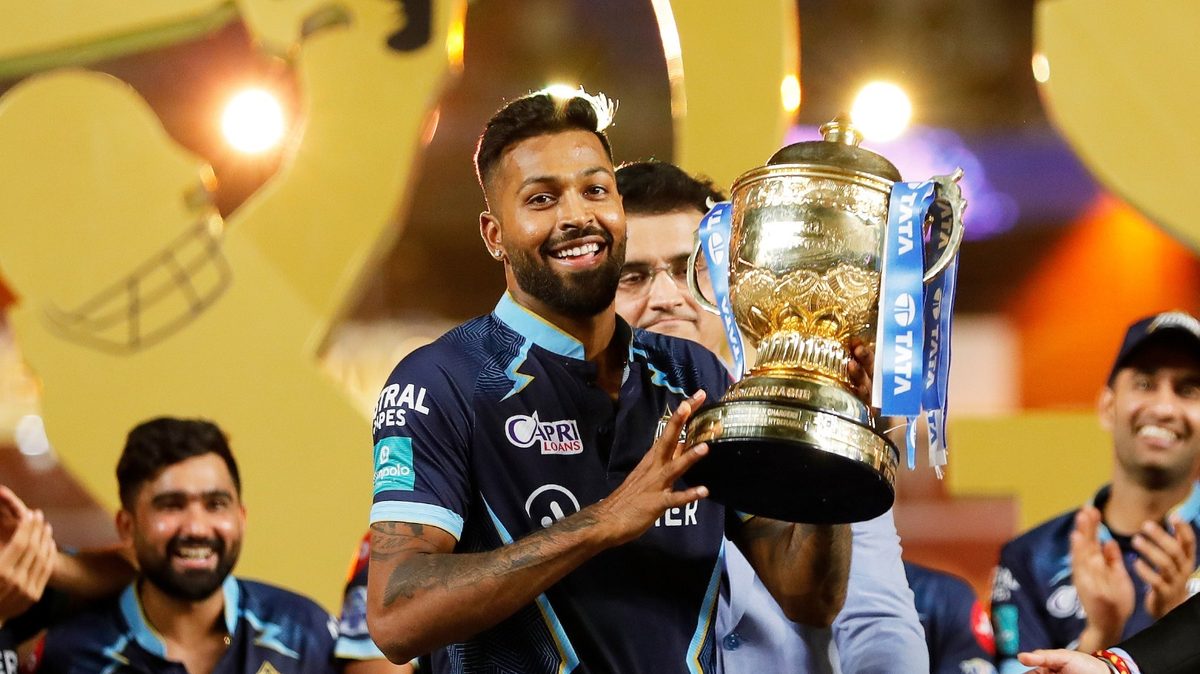 Debut season. New franchise. New captain. IPL champions.
This was not about proving wrong those who thought that Gujarat Titans had messed up their mega auction. This was about Gujarat Titans proving themselves and their faith in their players, right.
View this post on Instagram
Going heavy on bowling in the auction was by design. As Hardik Pandya would say later of the way his and coach Ashish Nehra's philosophies aligned, "Specifically, both of us lean more towards bowlers because I've always believed that even though lots of people call T20 cricket a batter's game, if you see it's always bowlers who win you games. If your batsmen don't put up a par score, and if you have a gun bowling line-up like we did, they always pull you back.
"We always gave 10 runs fewer, even in when 190 was the par score, we have conceded 180. Those 10 runs are very important in the big picture, because they can make you win or lose the game. So for me and for Ashu pa, we ensured when we started that we would create a very strong and experienced bowling unit. If there is a situation where the batsmen don't come off, you can then still pull things back with your bowling."
The bowling-heavy strategy had Hardik's backing. It meant two things – that the Titans would have a bowling attack that was a threat against all oppositions in all conditions, and that Hardik would have to bat in the top order since the team structure was such. Both appealed to Hardik. Both would be in evidence throughout the season, but never more so than in the final.
The bowling in the final was tight enough to start with. Mohammed Shami did Mohammed Shami things, testing and probing. Yash Dayal showed further evidence of self-belief and heart, when he bowled short to Yashasvi Jaiswal despite being hit for a six, and got his wicket. Lockie Ferguson seemed to have stored up extra kmph of pace when not in the playing XI, and decided to unleash them all together, regularly breaching 150 kmph right from his first over.
Then came the moment that encapsulated just why and how the Titans have been so good. It had everything that made the Titans' a success: there was a key moment in the game, there was a challenging situation, there was a champion bowler, and there was a tactically astute captain who wasn't afraid to take the aggressive option, even if it came with risks.
It was the sixth and final powerplay over, and the two most destructive Royals' batters – Jos Buttler and Sanju Samson – were at the crease. But Hardik took the gamble of bringing on Rashid Khan. The risk was that with only two fielders out and the batsmen's hitting prowess, they could break free. The reward was that Rashid has had the wood over both batsmen (like he does over 95% of batsmen), and keeping the Royals quiet in the powerplay, with perhaps another wicket possible too, would give the Titans an iron grip on the game.
Hardik's instinct and Rashid's mastery won out. The final powerplay over went for just seven runs, which would have been three runs only except that bad bounce caused a mis-field and a ball that would have been a dot went for four.
The captain himself, of course, had a dream day with the ball. He sussed the best length to bowl – in what was the Titans' first game at their official home ground – with just his second delivery. Bowled with a lot of shoulder onto a hard length and accounting for Samson. "The second ball which I bowled after getting Sanju out, where I saw that if you hit the wicket hard and bowl it on the seam, something's going to happen," Hardik would say later. "For me it was all about sticking to the right lengths and asking the batters to play a good shot, rather than me trying something and giving a boundary."
That template brought him the further wickets of Buttler and Shimron Hetmyer to complete a dream spell of 3 for 17. Hardik, incidentally, could have opted not to bowl, because the Titans had five full bowlers. But it's his ability to deliver overs as good as any frontline bowler that makes him such a powerful force in any cricket team. What it did in the final was allow him to introduce Sai Kishore as late as the 16th over. If Hardik wasn't bowling, or wasn't bowling as well, he would have had to bring Kishore in earlier, when one or both left-handers in Hetmyer and Devdutt Padikkal were possibly still at the crease. By his own showing, he ensured his team's resources could be deployed to maximum effect.
Batting in a chase of 130, on a pitch that wasn't flat, was always going to be about assessing the correct pace of the innings. That meant seeing out tough periods of play and capitalising on others. This time, Hardik the captain showed his tactical nous. He was on 4 off 10 balls to start with, but unruffled. He didn't try to take chances against the pacers early in his innings, or against Yuzvendra Chahal at all. But it wasn't as if he came out in a defensive mindset. He was in the zen state of reacting to the ball while being alive to the match situation. That is why, when there were errors in length, he collected boundaries. And when R Ashwin was finally brought into the attack – Samson, like Pandya, hoping to delay a bowler's entry to wait for a favourable match-up – Pandya pounced. A cut for four and wrists of steel to whip a six off two consecutive balls, and whatever pressure the Royals had managed to painstakingly build was gone, poof.
Hardik the captain had backed his instinct with a bold move. Hardik the bowler had delivered his performance of the tournament. Hardik the batter just added to an already glittering resume with a tactically astute innings in a tricky chase, against a high-quality attack, in the biggest match of the tournament.
There was, really, no better way to encapsulate the season that Gujarat Titans have had than through the feats of their captain in the final.