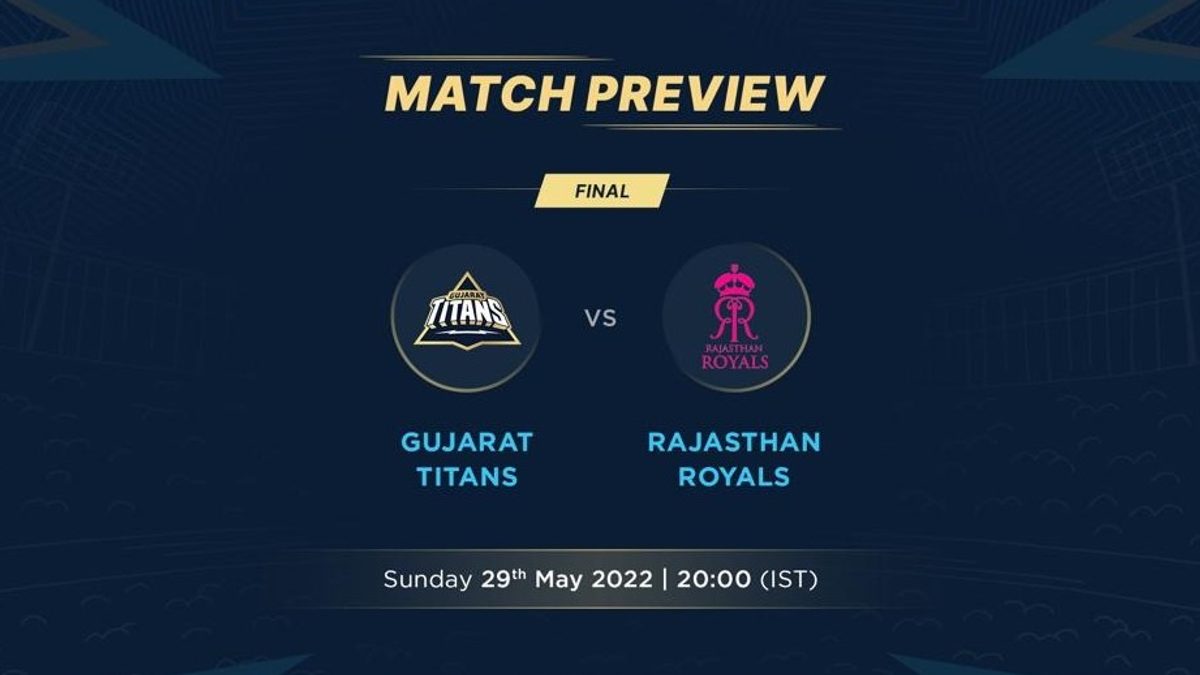 Two months, 73 matches, and about two to the power 73 heart-stopping moments later, we're finally here. Eight teams have fallen by the wayside, and it's Gujarat Titans taking on Rajasthan Royals for the IPL 2022 title.
It's a fitting finale. If the Titans can lay claim to having been the best team overall in the competition so far – first to seal qualification, first to seal a top-two spot, first to enter the final – then the Royals are certainly the second-best team. The top two teams contesting for the title is the ideal match anyway, but there's something else that elevates this game.
There's one franchise in its debut season. Led by an inspirational captain, outrageously talented. A leader who has been exceptional at his primary skill, and more than useful at the secondary skill too. Leading a team that was written off after the auctions, but ended up topping the group stage. The only time that combination of factors has taken place, it led to an IPL title. That was with Shane Warne and the Rajasthan Royals of 2008.
How poetic then, that it's Warne's team that the Titans have to overcome to replay that same script. No matter who wins, it will be a tribute to Warney, in spirit as well as in fact.
For the match itself, what has gone before does not count. It doesn't matter that the Titans have beaten the Royals in two previous meetings this season. Similarly, it does not matter that Jos Buttler has been gathering runs as if they are going out of fashion, and that Yuzvendra Chahal is leading the wicket charts. All of that is in the past, and for the team that loses, will be insignificant. It will be about who can control their nerves for the big occasion better, about who can instil calm so that players don't veer away from what has worked, about performing in front of a sold-out stadium that can host the largest crowd in the world without letting it scramble your brains or decision making.
It's something the Titans have done remarkably well all season long, perhaps better than any other team. They need one more day of magic.
What's their form been?
The Titans have continued to tick all boxes, to face and overcome every challenge thrown their way. They had Shubman Gill holding the batting together at the start. Then they had David Miller and Rahul Tewatia pulling off miracles. All through, they had Hardik Pandya's reassuring presence. When Gill had a brief lull, Wriddhiman Saha came into his own and the starts got even quicker. Their bowling is a revolving door of match-winners. If Mohammed Shami doesn't get you, Rashid Khan will. If you underestimate Sai Kishore or Yash Dayal, it's at your peril. If you think you can relax, there's Alzarri Joseph and Lockie Ferguson to deliver thunderbolts.
The Royals' would have been hit hard by the defeat to the Titans in Qualifier 1, but a mark of their strength and resilience as a team was how comprehensively they stopped an RCB side that looked like it was gathering unstoppable force. They have the bowling to rival the Titans – pace and bounce from Prasidh Krishna, swing and strike from Trent Boult, expertise at the death in Obed McCoy. Not to speak of the spin twins Chahal and Ashwin, capable of defence and attack both. And their batting has been equally formidable, led by Buttler of course. While he casts a large shadow, the likes of Sanju Samson, Shimron Hetmyer and Devdutt Padikkal have contributed considerably too.
In short, it's two teams who have a slew of world-class players in form, taking on each other.
Titans Trump Card
So far in his IPL career, everytime Hardik Pandya has qualified for the IPL playoffs, his team has gone on to win the title. The Titans captain has been talismanic for them this season. He's taken on a new role while batting, and aced it. He's done it while showing that the old big-hitting prowess still remains. He's bowled his quota of overs, but more than that, he's bowled at tough times. Not for him, hiding in the middle overs just after a wicket. He's taken the ball in powerplays, he's come on when partnerships are flourishing to try and break them, and he's shown that there's no reduction in pace or zip either. He's effected direct hit run-outs on the field, and he's been a captain who has shown the gift of keeping his players relaxed, yet motivated. He's gone on instinct, but not ignored analytics. And his numbers against the opposition are pretty darn fantastic too. He has struck at over 180 against all the Royals pacers, being dismissed only twice (once each by Boult and Prasidh) over a combined 84 balls. He has 45 runs from 32 balls bowled by Ashwin, without being dismissed. The only bowler who has troubled him is Chahal, 39 runs from 40 balls, but even there, he's been dismissed just once. Like all the great T20 players do, he has recognised a bowling threat, and played him out safely, because he knows how devastating he can be against the rest.
The biggest match, the biggest stage, on home ground – it's almost made to order for Hardik Pandya to shine.
Key numbers
This is the first time in the history of the IPL that neither of the captains of the two finalists have led in any form of international cricket.
Since the current play-off system came into being in 2011, only twice has a team losing Qualifier 1 and winning Qualifier 2 gone on to win the final – Mumbai Indians both times, in 2013 and 2017. On the other hand, the winner of the first Qualifier has gone on to win the title 8 times out of 11 so far.
Whether batting first or second, the Titans and the Royals have remarkably similar numbers. The Titans have won 4 out of 7 games batting first, for the Royals, it's 7 out of 12. The Titans have, in turn, won 7 out of 8 games chasing, and the Royals corresponding figure is 3 out of 4.