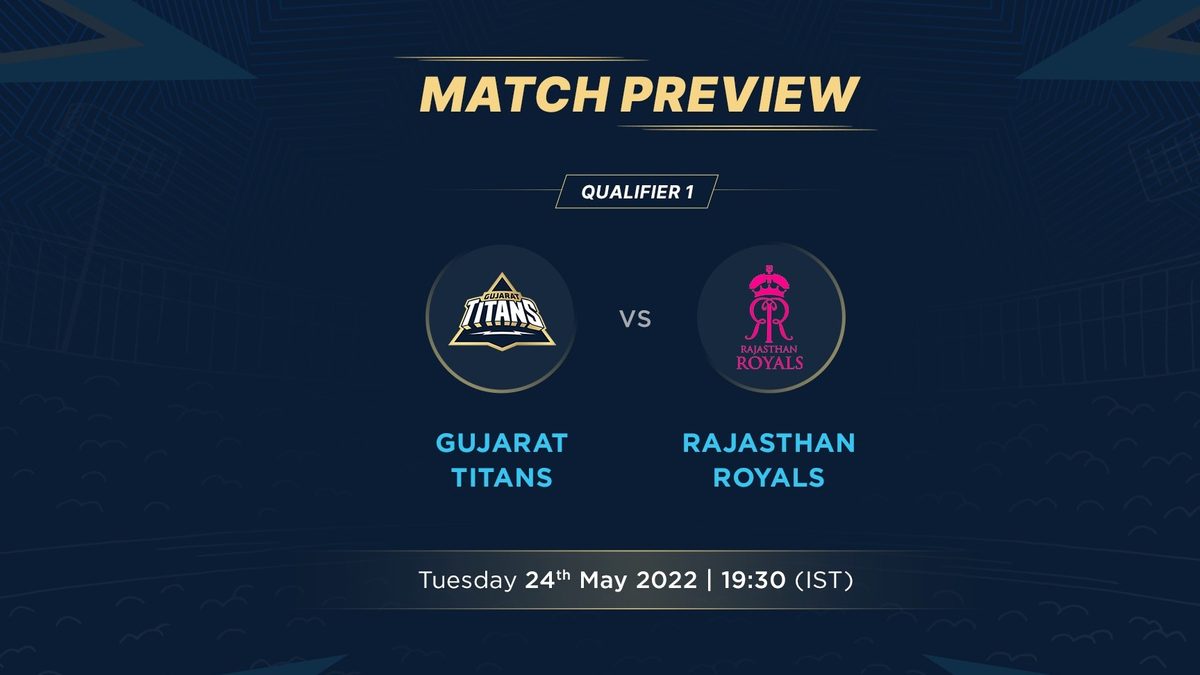 Their opponents are equally ready, though they have made it to the first Qualifier in much tighter fashion than the Titans. While the Titans had assured themselves of a top-two finish with a game in hand, the Rajasthan Royals had to win their final league game and squeeze through on net run-rate. Be that as it may, the first Qualifier in any IPL season is always a high-voltage clash, because it pits the two best teams of the league stage against each other.
The last time these two sides met was more than a month ago, and that time too, they were leading the points table. In the game, Hardik Pandya turned in a superman performance, hitting 87 not out off 52 balls, taking 1 for 18 in 2.3 overs, and effecting an athletic direct-hit run out against opposite number Sanju Samson. What the Royals will know is, this wasn't Hardik going above and beyond what his normal capacity is – this was Hardik doing exactly what he promises to do everytime he takes the field.
Captaincy has brought out the leader in Hardik, and it has also has a galvanising effect on his game. Samson, for his part, will feel the same, and the meeting of two young, aggressive captains, both leading teams rich with talent and form, will make for a fascinating duel.
Both teams have bowling attacks that are potent, and capable of swinging matches their way at any stage of the game. Their batting approaches differ slightly, with the Royals being more top-heavy, while the Titans have plenty of firepower in the middle order. The addition of Wriddhiman Saha up top has meant the powerplays have been well utilised too, giving the Titans a bit of an edge when it comes to having all bases covered.
What's their form been?
Both teams will be brimming with confidence ahead of this game. The Titans have won 10 of their 14 league games, the Royals 9. It can be argued that the Titans could have added to that tally, but Hardik judged that the experience of choosing an unfavourable option on winning the toss was worth risking two points. As it turned out, he was proved resoundingly right. The Titans have now had experience of chasing when it was difficult as well as setting a target when batting second might have been easier. In a knockout game against a fellow table-topper, the one percenters thus gathered could end up counting for a lot.
The Royals have also won from unfavourable situations often enough that they'll feel ready to take on any challenge. Their win in the last league game, against Chennai Super Kings, was stirring enough to galvanise any team. Their bowling had been punished heavily in the powerplay, but they still restricted the Super Kings to 150. But that's not all, in their previous match they had handily beaten Lucknow Super Giants, the third best team in the league stage.
Titans Trump Card
The big occasion brings out the best in the big players. Rashid Khan has already been a superstar for the Titans this season, with his leadership, with his batting, and naturally enough with his bowling too. No bowler has troubled the Royals' batters more than Rashid has. Jos Buttler, for example, has faced 28 balls from Rashid, off which he's scored only 17 runs and been dismissed thrice. The only one who's had a bit of success against Rashid is Shimron Hetmyer, but although he has hit 41 runs from 24 balls, he's also been dismissed twice in that time. The nature of high-risk, high-reward play is such that it works better the lesser pressure there is. Whether it can come off in a Qualifier, is another question altogether.
Key numbers
This is, of course, the first match of this IPL at the Eden Gardens. In the past 10 IPL matches here, teams batting first have won five times and lost five times.
The pair of Mohammed Shami and Yash Dayal have the second best rate of wickets per spell for bowlers hunting in pairs this IPL: they've taken 1.6 wickets per spell so far.
Wriddhiman Saha needs 38 more runs to get to 4,000 runs in T20 cricket.