"It's all in the wrists." When you say that about Rashid Khan, you're generally talking of his bowling. Of how the magical wrists give the ball revs, and do it while not letting batters figure out where and how the ball is coming to them. Against Sunrisers Hyderabad, the Rashid wrists were used more devastatingly with bat in hand.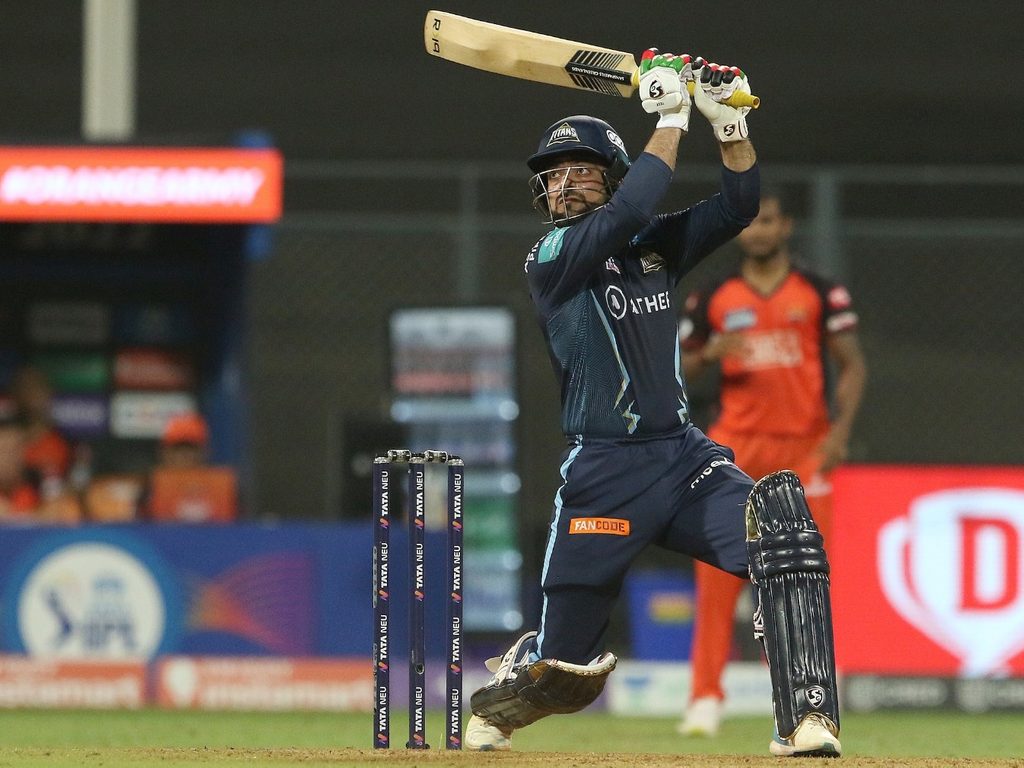 There was a hint of MS Dhoni's helicopter, and a bit of a hockey player's drag-flick, but the end product was all Rashid. "The snake shot" is what he calls it, because of the way the wrists uncoil and strike. It bit Sunrisers hard enough alright, with Rashid smashing an incredible 31* off 11 balls. Once again, Gujarat Titans had found a man for the occasion, and once again, IPL 2022's table toppers had found a way to clinch an impossible win. That it was delivered by Rashid Khan wouldn't surprise many. That it was Rashid Khan the batter who did it, also shouldn't surprise too many – not after what he did against Chennai Super Kings. That it was Rashid Khan the batter who did it when Rashid Khan the bowler couldn't – now that might be surprising.
Rashid having an off-day while bowling is a Halley's Comet event in the IPL. It happens roughly once every 76 matches. "I think I didn't bowl as well as I should have," Rashid would say later, after figures of 4-0-45-0. "I bowled four-five bad deliveries and was punished and that is something I had in my mind. On a wicket like this, you can't miss your line and length, and that is something I have done."
Because it's Rashid Khan, you know that he will come back from this with a familiar-looking champion performance. And perhaps because it's Rashid Khan, you should have known that if redemption could be achieved in this match, why wait till the next one? It's what champions do.
Rashid walked in with the Titans 140 for 5 in 16 overs, all five wickets gone to Umran Malik's searing pace. There were 56 needed from the last four overs, but in Rashid and Rahul Tewatia, the Titans had two men familiar with conjuring victories out of nothing. It was still against the odds when Marco Jansen began the last over with 22 needed, but pulling off a win against the odds is a speciality now: with Rashid, with Tewatia, with the Titans. Rashid finished it off with three sixes in four balls, the last two coming off the final two balls when nine were needed for victory.
"From the last two-three years I've been working on my batting. I have that self-belief that I should be there and finishing for the team," Rashid said after his blitz with the bat. "I have those skills and talent but it was just about the confidence in myself, that I could finish. The best thing is, I get more opportunity here in this team to bat."
It's an opportunity Rashid has grabbed gleefully. And it couldn't have come against a more poetic opponent, Rashid doing it for his new team against his old one.
You could see that belief and the work that has gone into Rashid's batting. The last over provided ample proof. He's been adept at dispatching full balls anyway, but what he has done with those wrists and evolving the 'snake shot' is what put him in position to hit the last ball for six too, even though it was a short one directed at his body. Rashid's stance is open, which allows him the access needed to dump short balls into the legside or thrash them offside. The trade-offs for a more open stance is that you find it more difficult to hit down the ground. Unless you have the Rashid wrists, and his ability to generate maximum power with minimal backlift.
So when Jansen bowled full, Rashid was still able to dispatch him. And when he bowled short, Rashid was waiting, and duly hit the game-winning six.
Belief. Power. Skill. The three ingredients necessary to pull out yet another impossible chase. Rashid the bowler has always had it. On the rare day that the bowler was off, the batter showed he still had it. Rashid Khan doesn't need redemption stories, particularly in the IPL where he's been a champion non-pareil. But when he does deliver them, it makes watching him all the more special. It also reinforces that Rashid Khan is the MVP of T20 cricket, unquestionably.
- Saurabh Somani