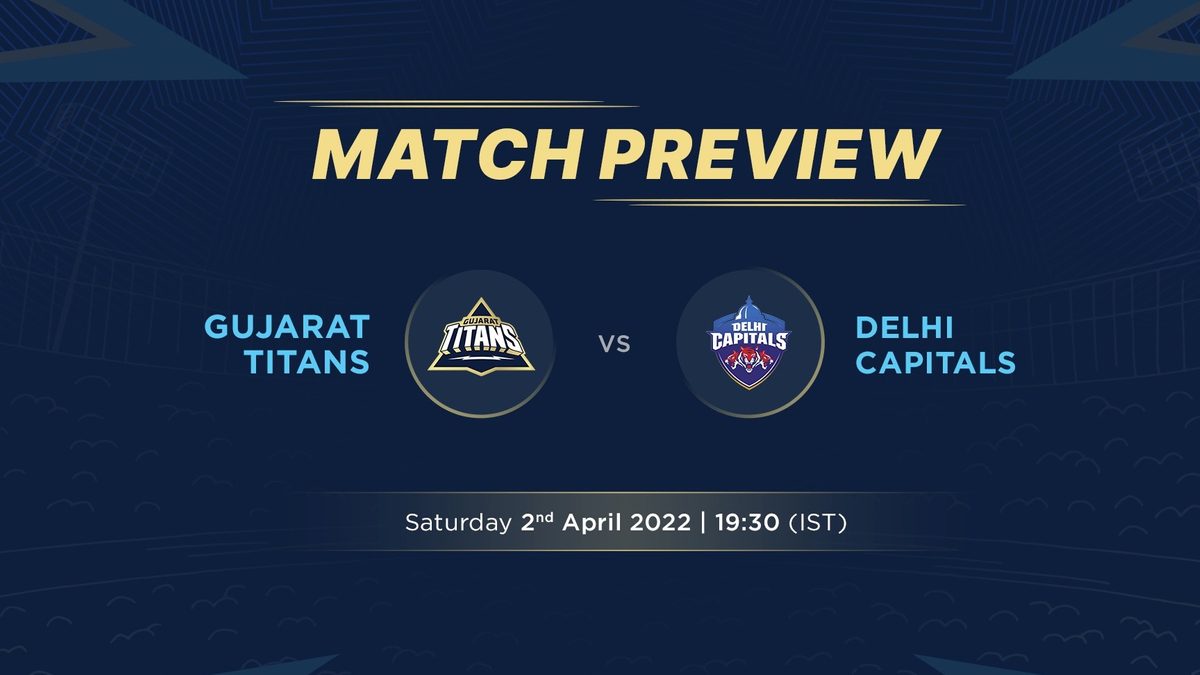 There were a couple of tight moments, but Gujarat Titans came through their IPL debut on the right side of the result, two points in the bag. As most cricketers will say, the nervous excitement before a match never goes away, but the debut nerves won't last beyond your debut – especially if it has been a successful one. You would imagine it's much the same for cricket teams too, which means it will be a Titans team with a greater air of confidence who will step out in Pune.
Not that confidence is an issue for the team they're up against. Delhi Capitals played their opening game with just two overseas players – the others either not here yet, injured, or quarantined – and still managed to beat Mumbai Indians. This despite being 104 for 6, needing 74 to win off 40 balls. With Lalit Yadav and Axar Patel's batting heroics, the Capitals' depth was in stark relief.
But again, the same can be said for the Titans. If any doubts existed about the middle-order, they were dispelled in style. Hardik Pandya promoted himself to No.4, Rahul Tewatia did what he does best, and David Miller showed that the T20 form around the world that got him a bid at the mega auction was not misplaced.
It was a good beginning to Hardik's captaincy career too. With a win under the belt, Hardik will get the added confidence to lead his team in the manner he deems best. And it's not a style that players will disagree with. "He allows guys to play with freedom, he allows guys to have fun, and obviously everyone really works hard and wants to win," Miller had said after the first game.
What's their form been?
Both teams have reason to be buoyant. Both were in trouble against strong opposition in their opening games, and both found heroes to stand up at critical moments. While the opening game is, of course, Gujarat Titans' only match in IPL history, Delhi Capitals have been around since inception. However, it would be unwise to read too much beyond this season's games, since the team itself is fairly different to the one that performed well in 2018 to 2021.
Titans Trump Card
It's the first week of IPL 2022, but one of the trends that has been emerging is the potency of the new ball. And, conversely, how batters can cash in after the initial overs. With that in mind, the importance of Mohammed Shami becomes evident. He's got not only pedigree – in the bucketfuls – but also recent performance, devastatingly good performance. Shami always had the tools to be a powerplay threat, although it's in recent years that this has been fully realised. Since 2019, he's taken 17 powerplay wickets as opposed to a mere 4 pre-2019. And he's done it at an economy rate of just 6.90. If the new ball poses questions, Shami will ask them of the Capitals' batters.
Key numbers
Mohammed Shami has bowled 276 dot balls in IPL powerplays since 2019 – the second most by any bowler.
Of the last 10 IPL matches in Pune, 6 have been won by the team batting second.
Hardik Pandya has 99 sixes in the IPL. One well-connected shot and he'll be in a select band of the 100-sixes men in IPL.
The highest team total at this venue is Chennai Super Kings' 211 for 4 against Delhi Capitals in 2018. The lowest is 73 all out by Punjab Kings against Rising Pune Supergiant in 2017.
Follow all the live action from the match between Gujarat Titan and Delhi Capitals here.