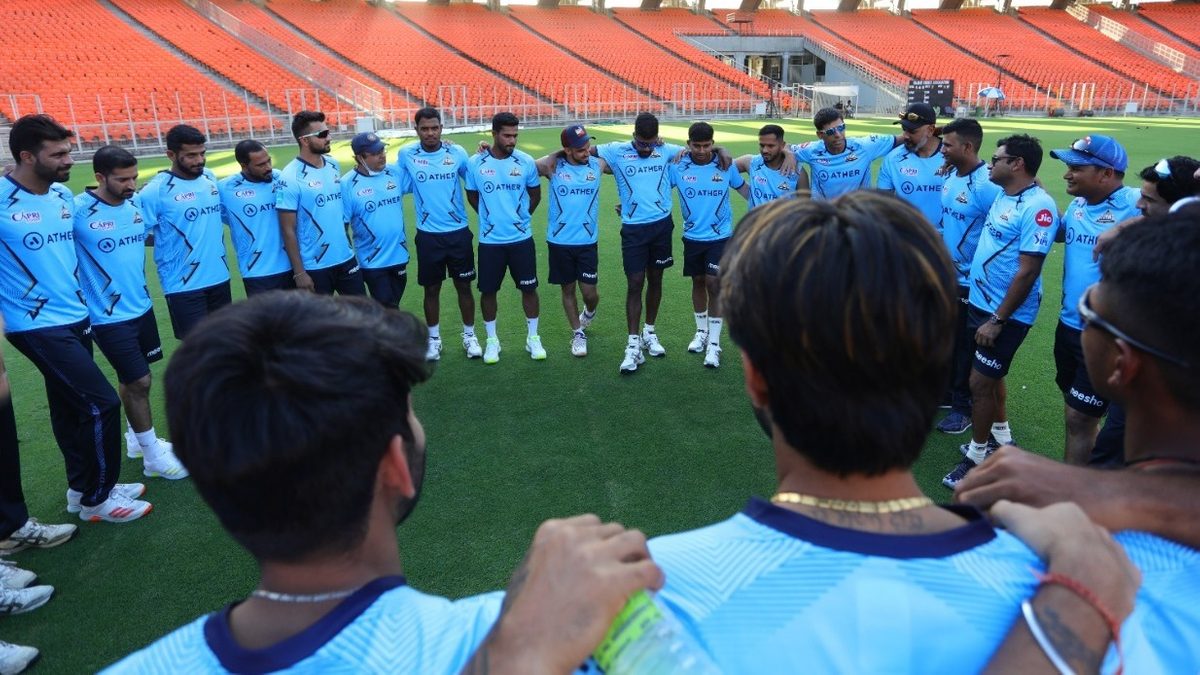 Both Gujarat Titans and Lucknow Super Giants promise a clash that will live up to their franchise names: titanic in skills, gigantic in scope. It's just one match out of the 74 this year, but for both these franchises, their first ever IPL game. It will also be the first time ever that Titans captain Hardik Pandya and Super Giants all-rounder Krunal Pandya are on opposite sides in senior cricket. They've played on the same team always: for Baroda, for Mumbai Indians, and for India. The Titans went all out to ensure that trend would continue, but the Super Giants had just that bit extra in the IPL 2022 mega auctions to secure Krunal.
Playing against his brother may be a first for Hardik, but he knows what it is like to play against a bro. Hardik and Super Giants captain KL Rahul have a long and deep friendship – that hasn't come in the way of both giving it their all when they have faced each other on the field.
"For me obviously it's going to be very different this time around, because I and Krunal – as a lot of people know – we have always played for one team, one club, one state, one franchise, one country. For the first time we'll be playing against each other, in the opposition," Hardik told Gujarat Titans.
"In the same way he knows a lot of traits about me, I also know a lot of traits about him. But we'll keep that for the team! It's going to be very exciting. In my house right now there is a 50-50 divide. Half the people are with Krunal and half with me! I mean, they all are with us, but they have to pick sides and it's quite hilarious to see. Same way, KL will be there, one of my very closest friends. It's going to be really exciting, I'm really looking forward to it. There will be a little banter, there will be a little cheering, a little pulling each other's legs on the ground – and I think that's healthy for the game."
Hardik on one side, Krunal on the other. Rahul on one side, and Shubman Gill – the man who is most likely to be the next all-format India top-order batter – on the other. Rashid Khan on one side and on the other, the leggie who observers think has the best chance to be his successor, Ravi Bishnoi. We're all set for a contest for the ages.
What's their form been?
On debut, there is no 'team' form to look back on of course. But individual players have shone. Rashid Khan has just been in Bangladesh, where playing away against accomplished batters of spin, he bowled eight overs across two T20Is and picked up 2 for 45. For the Super Giants, Jason Holder has been in terrific form, no matter the format. He's scored runs and taken wickets against England, and a month ago, he was doing the same in India itself.
Titans Trump Card
Captain and leader, the man who can strike the ball further than anyone else, Hardik Pandya will be his team's talisman. With Mark Wood ruled out, Super Giants' spinners will have to lead the charge. But neither Ravi Bishnoi nor K Gowtham have dismissed Hardik so far in T20 cricket. Instead, he's smashed 19 runs from the 11 balls he's faced from the duo. Whether the ball turns from leg to off, or from off to leg, Hardik's been sending it to the boundary. Overall, Hardik has faced a combined 52 balls faced from Andrew Tye, Avesh Khan, Jason Holder, Ankit Rajpoot, Bishnoi and Gowtham, and blasted 93 runs from them.
Key numbers
After the opening IPL 2022 match between CSK and KKR, the team batting second has won 7 of the last 11 IPL matches at the Wankhede Stadium.
The highest team total here is 235 for 1 by Royal Challengers Bangalore against Mumbai Indians in 2015.
The lowest team total is 67 all out by Kolkata Knight Riders against Mumbai Indians in 2008.
Two teams have made 198 while chasing successfully here. Mumbai Indians did it against Punjab Kings in 2019, and then Delhi Capitals did it against Punjab Kings again, in 2021.
Follow the live match updates here.